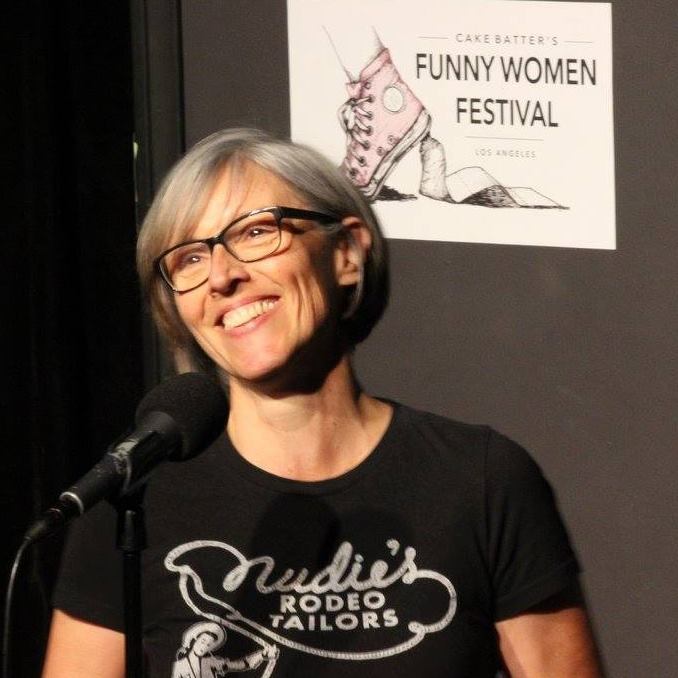 Wendy Hopkins is a Second City alumni and a Dora Award, and Canadian Comedy Award nominee. She started her career as an improviser and actress in Toronto where (possibly because of her 6' 1" height) she specialized in playing cops, lawyers and doctors, aka women who enter with bad news.As a Second City cast member she shared the stage with Who's Line improvisers Colin Mochrie and Ryan Stiles, and Red Green's Patrick McKenna. Wendy was a series regular on Maniac Mansion, directed by Eugene Levy and It's Only Rock and Roll with Mike Myers.
In 2021 Wendy's site specific play, Pool Boy was named a Best Bet For Your Weekend by the LA Times during its six week, poolside, run in Los Angeles. Her short play On The Way Out was produced and directed by Kristelle Zibara at Sydney Australia's Short n' Sweet festival in 2020.
As a solo performer Wendy continues to perform at Strong Words and The Moth and has toured her storytelling shows throughout Canada, the US and to the Melbourne International Comedy Festival.
For television Wendy created and wrote the half hour comedy, FANCY, starring Kate Hewlett; co-created the Gemini Award winning series, The Tournament, ("a rarity to be treasured" NYT); and wrote six original pilots including American Freak and Nature Boy (with Harland Williams) for Comedy Central. She has directed award winning television: Corner Gas, G-Spot, Lovingspoonfuls: and the documentary films Waitress and Behind the Wheel. She co-directed the Slamdance Audience Award film Wetonkawa starring Kevin Tighe and Toby Huss.
Wendy teaches writing and improv for Second City, Laughter on Call and works privately with writers on their scripts, pitches and written creations. Currently she lives life on the road.
Click CONTACT to get in touch.